Residential Landscaping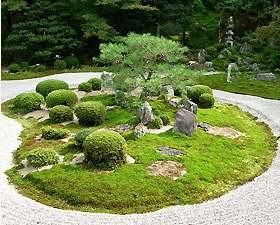 A well-designed residential landscape is both aesthetically pleasing and functional. It can offer endless joy to your family and enhances your neighbourhood. Not only that, it can add considerably to your property's resale value.
By hiring only the best Irish landscaping companies, you can have your garden designed and landscaped for maximum use and pleasure, and create a visual balance between your house, its garden, and your neighbourhood.
The landscape design process is actually one of the most important aspects of residential landscaping, and is often neglected. Residential landscapes that are not well planned and designed can cost you dearly, and be an endless source of frustration and regret.
Irish Landscaping Services can help you to avoid such frustration and irritation. Simply click on the button below and we can introduce you to up to three landscapers in your area.

Each landscaping contractor will contact you separately, and can visit you in person and provide you with a proposal. Save time and money, by choosing the best landscaping services in Ireland.
Landscape Design

It's no use choosing just any landscaping service. Find landscapers that are also great designers and you will end up with a truly stunning garden.

Landscape Construction

It's essential to choose a landscaper that has experience in creating many unique styles of garden. Experience in a variety of techniques is important.

Grounds Maintenance

After investing time and money in your landscape, it's important that it looks great all year round. This is why its worth considering a top notch maintenance service.

Garden Restoration & Cleanup

Find landscapers who can get your garden back to it's original pristine condition. A complete garden restoration can bring back a tired and worn out garden back to it's former glory.

Lawns & Lawn Cutting

There's nothing quite like the beauty of a well kept lawn. Keep your lawn healthy and looking great at all times. Instant lawns can also transform any garden in a snap.

Tree Surgeons

Tree surgery includes pruning, reshaping, felling, and stump-grinding. It can also includes such things as fertilisation, foliar feeding, pest and disease management and control.